Cooperation
India's Modi slammed for his 'complete solidarity' with Israel over Palestinians and playing religious card
Sonia Gandhi, senior leader of the main opposition Congress Party, criticised Modi in a recent editorial in a Hindu newspaper for "expressing complete solidarity" with Israel and making no mention of Palestinian rights in his initial statement following the Hamas attack on October 7.
Modi tweeted on social media platform X a day after
the attack
: "Deeply shocked by the news of terrorist attacks in Israel. Our thoughts and prayers are with the innocent victims and families. We stand in solidarity with Israel at this difficult hour."
Gandhi added that even the Indian foreign ministry later reiterated its position in support of the two-state solution, which was not mentioned in Modi's tweet.
The Indian government said in a statement dated October 10 that Modi received a phone call from Israeli Prime Minister Benjamin Netanyahu during which he expressed sympathy for those who were killed in the October 7 attack and conveyed that the "people of India stand in solidarity with Israel in this difficult hour".
Modi condemned "terrorism in all its forms and manifestations" and both leaders agreed to remain in close touch, the statement added.
On the other hand, the BJP has accused Congress of supporting terrorism and playing "minority vote bank politics"– a euphemism for Muslims in the Hindu-majority nation.
Gandhi has in turn criticised the government for abstaining from a
United Nations
resolution that called for a humanitarian truce and ceasefire in Gaza, saying Congress supported a cessation of hostilities in a war "where humanity is on trial".
The government had said it abstained from the resolution adopted by the UN General Assembly on October 27 because it did not include "explicit condemnation" of the October 7 Hamas attacks. Supporters of the ruling party have pointed out that the Modi administration later voted in favour of a separate draft resolution approved by a UN committee on November 9 that condemned "Israeli settlements in the Occupied Palestinian Territory".
Israel has launched multiple attacks across Gaza for over a month in response to the Hamas attack, which the Israelis said had killed at least 1,200 people while the militant group had taken some 240 individuals hostage.
More than 13,000 people – mostly civilians – have been killed in subsequent Israeli attacks in Gaza, Palestinian health officials in the Hamas-run government have said. Thousands of homes have been destroyed in the Israeli offensive, causing a huge exodus of Palestinians and a humanitarian crisis.
Shoring up Hindu votes
Taking a pro-Israel stance aligns with BJP's aim of consolidating the "Hindu vote bank," said Nilanjan Mukhopadhyay, a New Delhi-based writer and political commentator.
"Whenever the BJP is not very confident, it falls back on religious polarisation and that includes India supporting Israel because it is seen as fixing the Muslims," he said.
Modi, who became the first Indian prime minister to visit Israel in 2017, remains India's most popular leader. But the BJP has to grapple with voter discontent over a range of issues such as high youth unemployment and inflation, according to analysts.
The ruling party will have to overcome the anti-incumbency voting trend if it were to prevail in the coming election. In the past eight decades, Congress – under Jawaharlal Nehru's leadership – was the only Indian party to have won a third successive term in 1962.
Ties between India and Israel date back many years, with the Middle East country admired by right-wing Hindu leaders for its military capabilities, Mukhopadhyay said. India recognised Israel as a state in 1950 and both countries established full diplomatic ties in 1992.
"BJP has been consistently a supporter of Israel and has appreciated its no-nonsense policy towards Palestinians. We have seen since early October [the party's] comments in favour of Israel on social media," he added.
The government has, however, tried to balance its position, analysts noted. It has sent humanitarian aid to Gaza and reportedly plans to send around 100,000 workers to help in future reconstruction of the war-ravaged territory – an issue that has sparked furore among Israelis and Indian trade unions.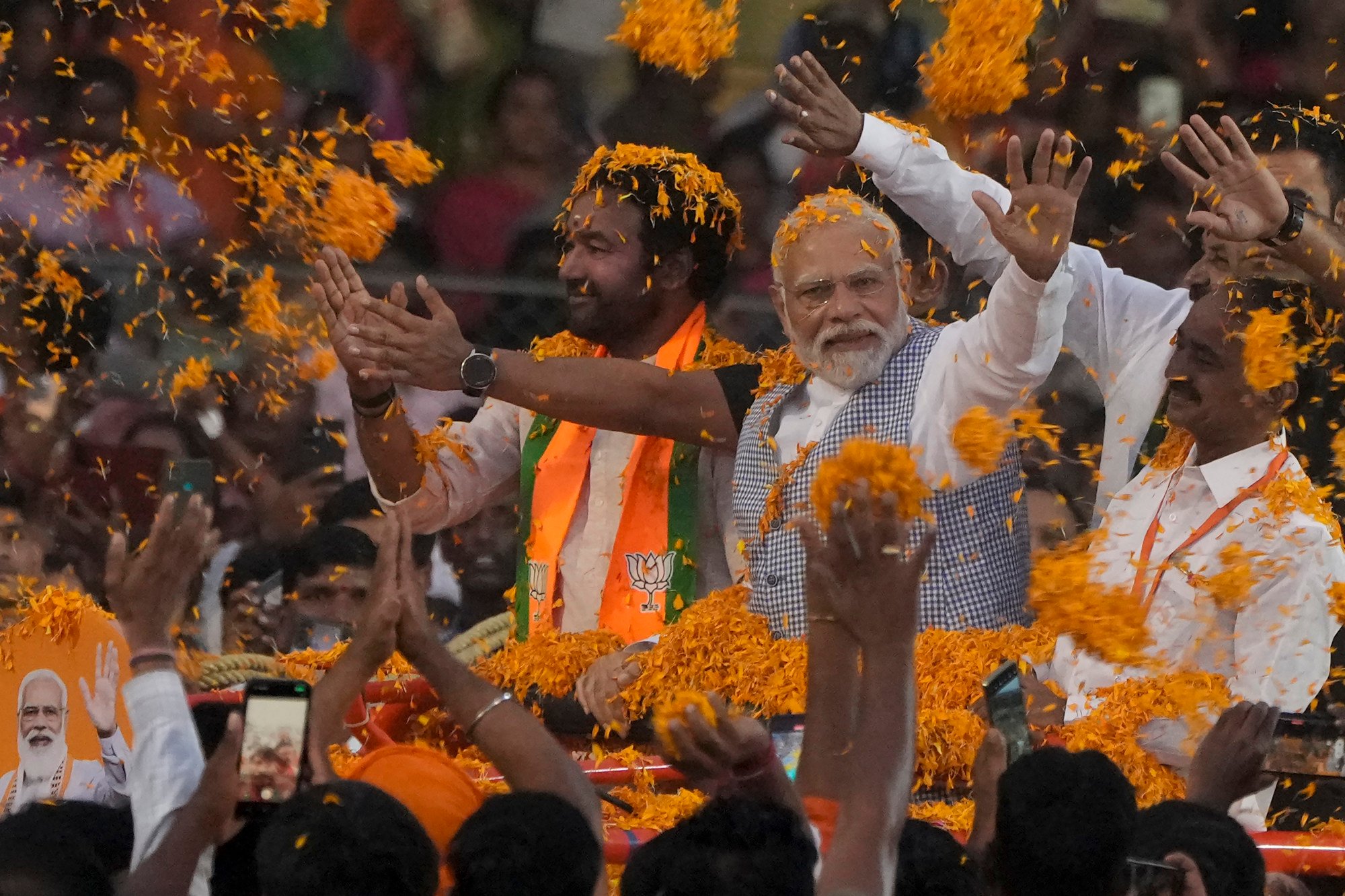 Pushpesh Pant, former dean of the School of International Studies at New Delhi's Jawaharlal Nehru University, said that the government needs to walk a tightrope for now.
"There is an election coming up and India has a substantial Muslim position. That means you can't project yourself as totally with Israel," he said.
India's position in the Middle East conflict also stemmed from its growing ties with the US, which has strongly supported Israel for decades. "India cannot take any other position because of its interests," Pant said.
Israel is also an important weapons supplier and shares military intelligence with India, and this has resulted in diminishing support in India for the Palestinians over the years, according to Pant.
Past terrorist attacks in India have also shaped New Delhi's position on Israel and its empathy for terror victims, according to analysts.
"Indians inherently do not like the idea of terror," said Yashwant Deshmukh, an independent political commentator. But people have also strongly criticised Israel for its attacks that had killed Palestinian children, he added.
Foreign Minister S Jaishankar said at an event in Bhopal last month that India is taking a strong position against terrorism as the country has been a "big victim of terrorism" in the past.
"We will have no credibility if we say that when terrorism impacts us, it's very serious, when it happens to somebody else, it's not serious," Jaishankar said.