News
Nepal quake victims fear not getting enough aid ahead of winter, politicians accused of 'hijacking' issue
Namrat Rokaya's family managed to escape unscathed from the deadly
November 3 earthquake
that killed at least 157 people in western
Nepal
. But more than two weeks after the quake, centred in Jajarkot district, they are now worried about the impending threat of winter.
And as temperatures plummet, survivors like Rokaya worry that the tarpaulin sheets and blankets they received from the government as part of an aid package, as well as dwindling food supplies, will not be enough for them to survive the bitter cold.
"The tent gets cold and damp at night, and I am concerned that my little children and elderly mother might get sick," said the 29-year-old from Barekot Rural Municipality, near the quake's epicentre of Ramidanda. "We also don't know how much we can stretch the few kilos of rice we received as aid."
The 6.4 magnitude earthquake, which struck close to midnight, left more than 26,000 houses in Jajarkot, Rukum West and Salyan districts completely damaged. It was the most powerful tremor to hit Nepal since the 7.8 magnitude quake killed nearly 9,000 people and injured thousands of others in 2015.
Scattered relief
Nepal is situated in a highly active Himalayan seismic zone. A 2019 study warned that western Nepal had not experienced a large tremor for the past 500 years and the seismic gap could "potentially trigger a great earthquake" in the near future.
Experts said rescue and relief operations in places like Jajarkot, located in the remote Karnali province, would face additional challenges due to its hilly topography and relatively poor infrastructure.
In Barekot, almost all the 4,400 houses had been damaged to some degree, but swift action by the community prevented any casualties, said Bir Bahadur Giri, chairperson of the village municipality.
While everybody in the village survived the quake, their future remains uncertain. Giri said his village had not received enough relief materials from the provincial and central government, and people were in dire need of warm blankets and winter-proof tents. Nighttime temperatures in some areas of Jajarkot have already dropped into single digits, increasing the likelihood of snow.
"We are geographically close to the epicentre [of the quake] but far from the district headquarters, which has access to better roads and services," Giri said. "We feel we are being differentiated in aid distribution due to our remoteness."
Aid workers in Jajarkot acknowledged the challenges of reaching people in remote locations.
Sanjeeb Shakya, senior humanitarian manager at Save the Children Nepal, said relief efforts were "scattered" and those living in areas accessible by roads had received relatively more help.
"This is a test for all of us in terms of delivering aid," said Shakya, who visited Jajarkot and Rukum West after the quake.
Nepal's government initially said it would not seek foreign aid immediately. Still, neighbouring
India
and
China
have announced they would donate millions of rupees worth of aid, including tents and blankets, to Nepal. Last week, the European Union approved a €2 million (US$2.18 million) aid package for shelter, sanitation and healthcare.
But in a country plagued by poor governance and corruption, few would be surprised to hear that accusations of foreign aid being exploited for political gain have already emerged – echoing the mismanagement of aid money that delayed relief and reconstruction efforts in the 2015 quake. Earlier this month, local media reported that aid materials en route to Jajarkot were "hijacked" and sent to former finance minister Janardan Sharma's constituency in Rukum West, under his direction.
"Political parties and leaders distributing relief materials to secure vote banks is wrong – they should be impartial during disasters," said Ganga Lal Tuladhar, former education minister and member of the National Disaster Risk Reduction and Management Authority.
Lessons unlearned
While the authorities have learned a few lessons from the 2015 quake, including the need for swifter rescue operations, Tuladhar said the government should have properly expedited aid distribution. Referring to the 10 billion rupee (US$75 million) reconstruction and rehabilitation fund announced by the Nepali government, he said the authorities should make providing immediate relief a priority alongside their long-term plans.
"The delays and bureaucratic entanglement will only victimise the victims again," Tuladhar said.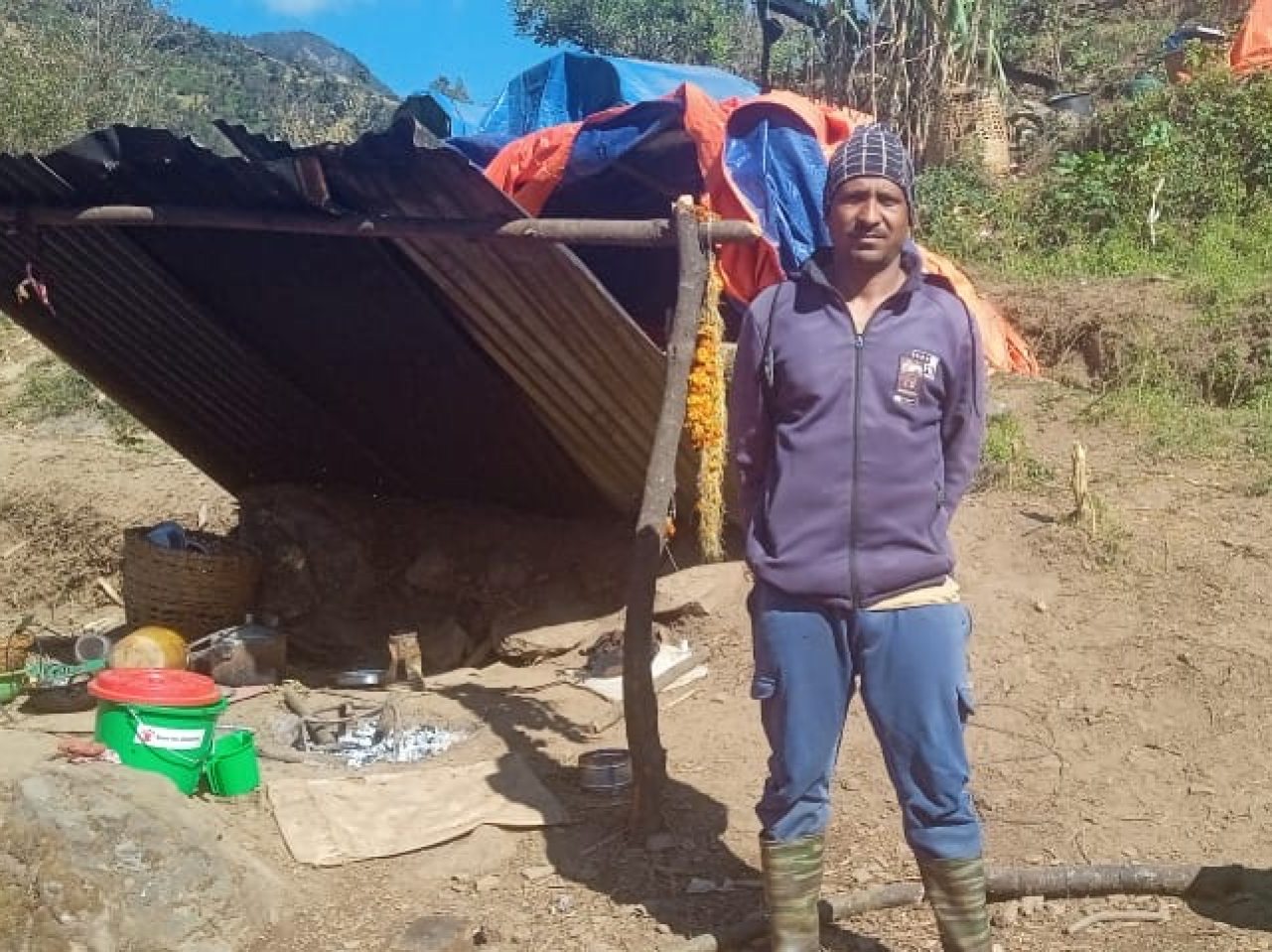 In Jajarkot's Kuse Rural Municipality, Jaydhan Tamatta said any delays could be costly in the coming days and weeks. The 42-year-old resident has been sharing a tarpaulin tent with nine family members since their home was damaged, and he is concerned they will not be able to farm wheat this season.
He is also worried about his daughter-in-law, who gave birth just days after the earthquake, and his newborn grandchild, who has been suffering from a cold.
"The earthquake didn't kill as many people in our village, but the cold might kill many more if we continue sleeping in tents without warm beddings and enough food," Tamatta said.
The state-run National News Agency reported that at least seven people, mostly senior citizens, have died so far due to exposure. Doctors in Jajarkot said they had seen an influx of patients suffering from respiratory issues and diarrhoea in the past week.
Pratikshya Bharati, medical superintendent at the Jajarkot District Hospital, said the falling temperatures could exacerbate underlying health conditions for the elderly, leading to complications and even death due to delayed treatment. She added that the hospital had also seen an increase in people coming for treatment from physical altercations, as well as a few cases of domestic violence and sexual abuse in the past week.
Mona Sherpa, country director of the international non-profit CARE, said both the authorities and humanitarian agencies should be cognisant of the specific needs of women, children, people with disabilities and the elderly during post-disaster recovery. In remote places where women are already subject to various forms of violence, measures to protect them must be swiftly adopted, she added.
"We need to create women-friendly places to address their specific needs," she said. "In terms of wider recovery efforts, we have yet to translate the lessons of the 2015 earthquake. The immediate relief helps to overcome the hardships, but we need the continuum for people to restart their lives."
Tuladhar, the disaster reduction and management expert, said it was important to learn from the recovery and reconstruction efforts of 2015. He said building codes must be strictly implemented and upheld, with houses designed with the topography and structural integrity of the surrounding land taken into account.
The Jajarkot earthquake showed that local governments were still not well-equipped to handle such large disasters and there was still much to learn from past experiences to minimise damage and prepare for future seismic events, Tuladhar added.
Meanwhile, survivors like Rokaya and Tamatta, along with thousands of others who face the prospect of a harsh winter housed under tarpaulin sheets, hope their government and aid agencies heed their calls for additional help before it is too late.
"I went to the Khalanga [district headquarters] along with other neighbours and met the chief district officer to demand we get supplies on time," Rokaya said. "We saw they had stockpiles of food and other supplies. They even had heaters. But none of it has reached us."