News
Malaysia pizza chain to rebrand as Israel-Gaza war-linked boycott widens and bites into profits
An American-themed pizza chain in
Malaysia
is considering a swift rebrand as a snowballing boycott of firms linked to
Israel
decimates revenues and damages businesses – including those with little or no connection to the Middle Eastern country or its staunch political and military ally, the
United States
.
Muslim-majority Malaysia is overwhelmingly opposed to Israel's
assault on Gaza
as well as America's backing for the Israelis amid an ongoing war which in six weeks has killed over 13,000 Palestinians – including over 5,500 children and 3,500 women – and 1,200 Israelis.
US Pizza, founded in 1997 by American Donald Duncan in Penang, Malaysia said on Facebook that it plans to rebrand itself to 'Kita Pizza' – or Us Pizza – if the post gets more than 10,000 likes or comments on the platform. As of Monday afternoon, the post has received more than 1,700 likes.
Last week, a letter from a franchise operator went viral, saying that the name of the brand refers to the word 'us' – kita in Malay – instead of the United States of America, and that his outlet is owned and operated by his Malay Muslim family.
"Don't worry! US Pizza does not pay royalties to the US," the brand said in a separate Facebook post.
Dropping its previous look depicting the US flag and Statue of Liberty, the brand's Facebook page now displays the Palestinian flag as its header image, while pledging to donate 1 Malaysian ringgit (US $0.21) to "a renowned Palestinian humanitarian aid organisation" for every purchase.
The US Pizza chain is owned by Malaysian investment banker Jeremy Hiew who bought the business over from Duncan in 2015. It has since grown its original outlet in Penang to over 100 outlets in Malaysia and three in Indonesia.
The Palestinian cause has broad backing in Malaysia with Prime Minister
Anwar Ibrahim
repeatedly defending the country's "ironclad support" including its
refusal to condemn Hamas
or consider it a terror organisation.
At the APEC Summit in San Francisco last week, Anwar won accolades from Malaysians and others for directly calling out US President Joe Biden on the double standards of asking Malaysia to condemn Russia for its invasion of Ukraine but staying muted on Israel's atrocities in Gaza.
The boycott has hit several major
global brands
including McDonald's, which was forced into damage limitation mode, despite its Malaysian business being locally owned.
It has been the subject of a boycott since the company's Israeli restaurants reportedly gave away free meals to the Israeli military following the October 7 assault by Hamas militants.
In a subsequently deleted Facebook post seen by This Week in Asia on November 3, McDonald's Malaysia – through its Chief Technology Officer Zaid Hasman – suggested the government take legal action under the Sedition Act against some 60 individuals it believes to be slandering the brand in recent weeks.
The fast food giant has also been criticised for decorating its Malaysian restaurants with balloons in Palestinian colours, a move widely seen by the public as hypocrisy.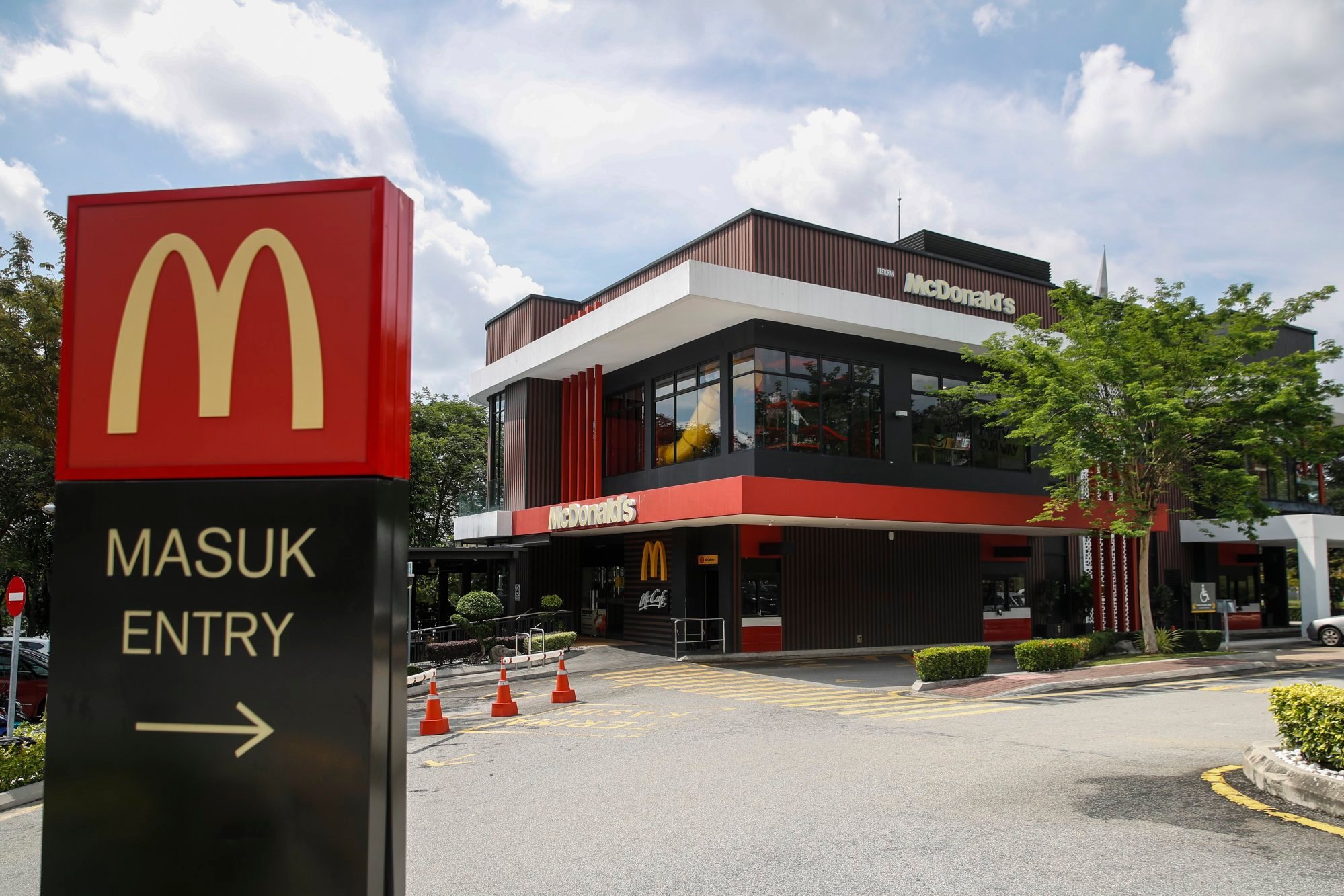 Meanwhile, Starbucks, which has 356 outlets in Malaysia, has posted a 2 per cent drop in earnings in the Malaysian market in the third quarter of this year compared to the previous quarter, with one equities trading firm cutting its year-end earnings forecast by as much as 18 per cent.
"We believe the recent wave of the local boycott event arising from the Israel-Hamas war towards its Starbucks outlets is likely to drag down its [fiscal] 2Q24 results, weakening its near-term earnings prospects, which are already masked by current headwinds," KAF Equities noted.
Starbucks is licensed by Berjaya Food Berhad, which is owned by Malaysian billionaire Vincent Tan.
Other brands under Berjaya's portfolio include Kenny Rogers Roasters, South Korean bakery Paris Baguette, and the Philippine fast-food chain Jollibee in the Singaporean market.
A concert by British band Coldplay that is scheduled to be held in Kuala Lumpur on Wednesday is also
being targeted
by pro-Palestinian Malaysians, with conservative voices calling for its outright cancellation out of respect for Palestinian victims of the Israel-Gaza war.
Joining the chorus of critics last Friday was the Mufti of Kuala Lumpur Luqman Abdullah who called the concert a program that "does not benefit the community in this country".
"Moreover, this band is associated with immoral groups that promote LGBT," Luqman said on Facebook.
In a recent concert in Tokyo, Coldplay's frontman Chris Martin touched on the ongoing war, saying that the band "don't believe in oppression, occupation, terrorism or genocide", and called for the audience to send "love and kindness" to places in the world that needed it including in Gaza, the West Bank and Israel.