Cooperation
Hong Kong's LGBTQ community won't be hitting streets for annual pride event although 'Journey with Rainbow GPS' exhibition adds some colour
Hong Kong's
LGBTQ
community will not hit the streets for an annual pride event again this year, with organisers citing an "unstable" outlook, potential restrictions and safety concerns as reasons for not applying to hold a march, while conceding their advocacy efforts might take a hit.
The Hong Kong Pride Parade committee has instead organised an exhibition, a mini fair and guided tours in Kwun Tong over the weekend with the theme "A Journey with Rainbow GPS".
Cuby Lee, a vice-spokeswoman for the committee, on Saturday said after considering factors such as the safety of participants, they had decided against filing an application to hold a march.
"The current outlook is uncertain for holding a parade. It is too unstable to organise the pride parade that is so joyful and yearns for freedom," she said.
"As long as we cannot guarantee the participants' safety, we will not hold a parade. It is too unsafe."
She added: "We can only hold an exhibition as another way of showcasing our colours. But we still look forward to seeing each other on the streets."
This year's exhibition is the 15th edition of the event since the first Hong Kong Pride Parade was organised in 2008.
The last march was held in 2018, with organisers putting the attendance at 12,000. A rally was held in 2019 at the height of that year's social unrest after an application for a march was rejected for the first time.
In 2020, an online broadcast was organised because of the Covid-19 pandemic and in the past two years the event took the form of an indoor market.
Committee spokeswoman Cynthia Cheung Man-yi said they had noticed restrictions were imposed on demonstrations held this year and expected the same would have happened to them.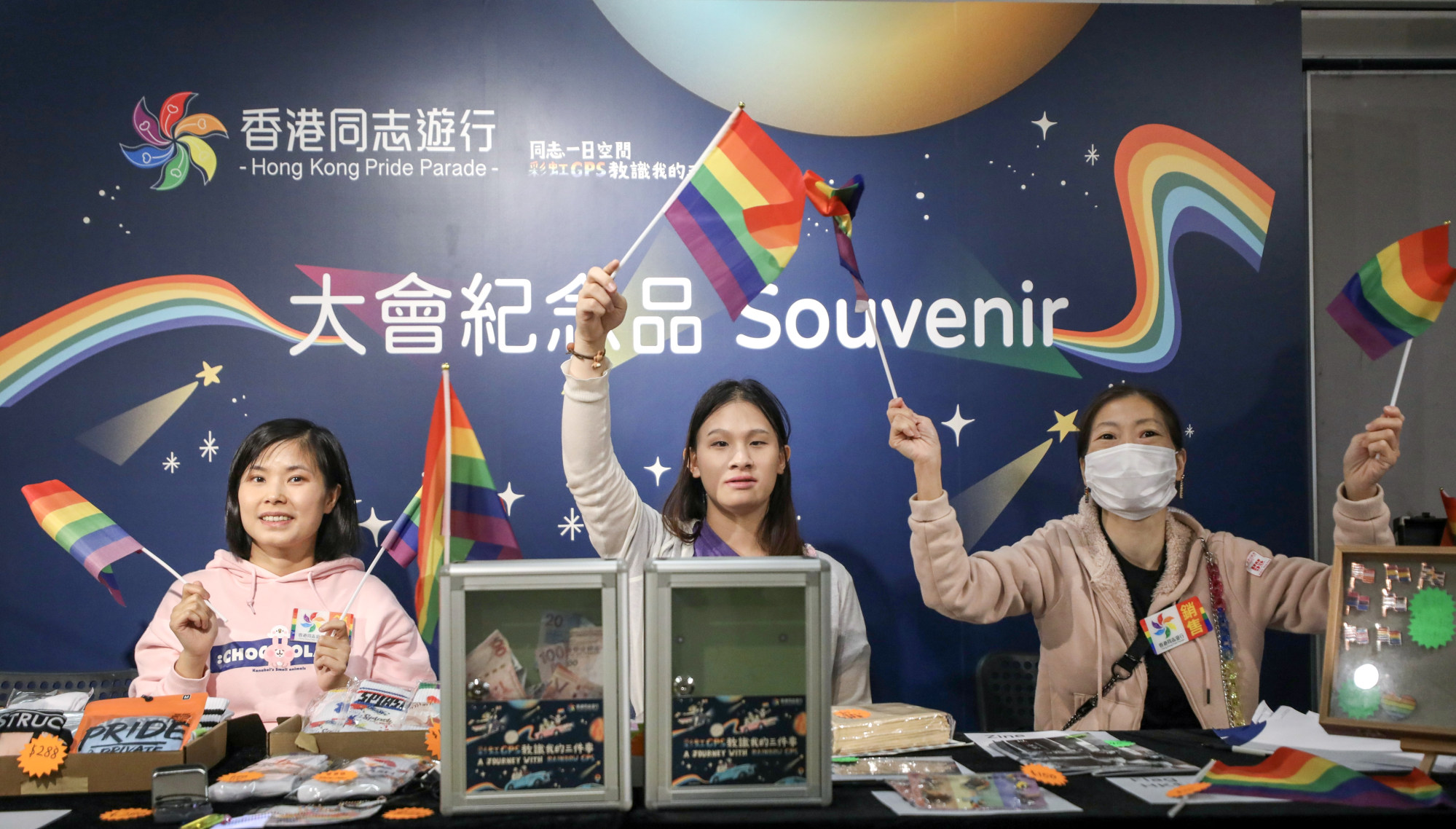 "If we're going to put on a physical parade this year, the last thing we want to do is to set up too many new restrictions and new rules on the participants," she said. "In the end, our main priority is the safety of everyone."
In past decades, protests and marches calling attention to all kinds of issues including workers' rights and greater democracy were a common feature in Hong Kong.
But during the anti-government protests in 2019, authorities imposed a ban on wearing masks. After the national security law came into force in 2020 in response to the protests and social restrictions were implemented during the pandemic, demonstrations became a rare sight.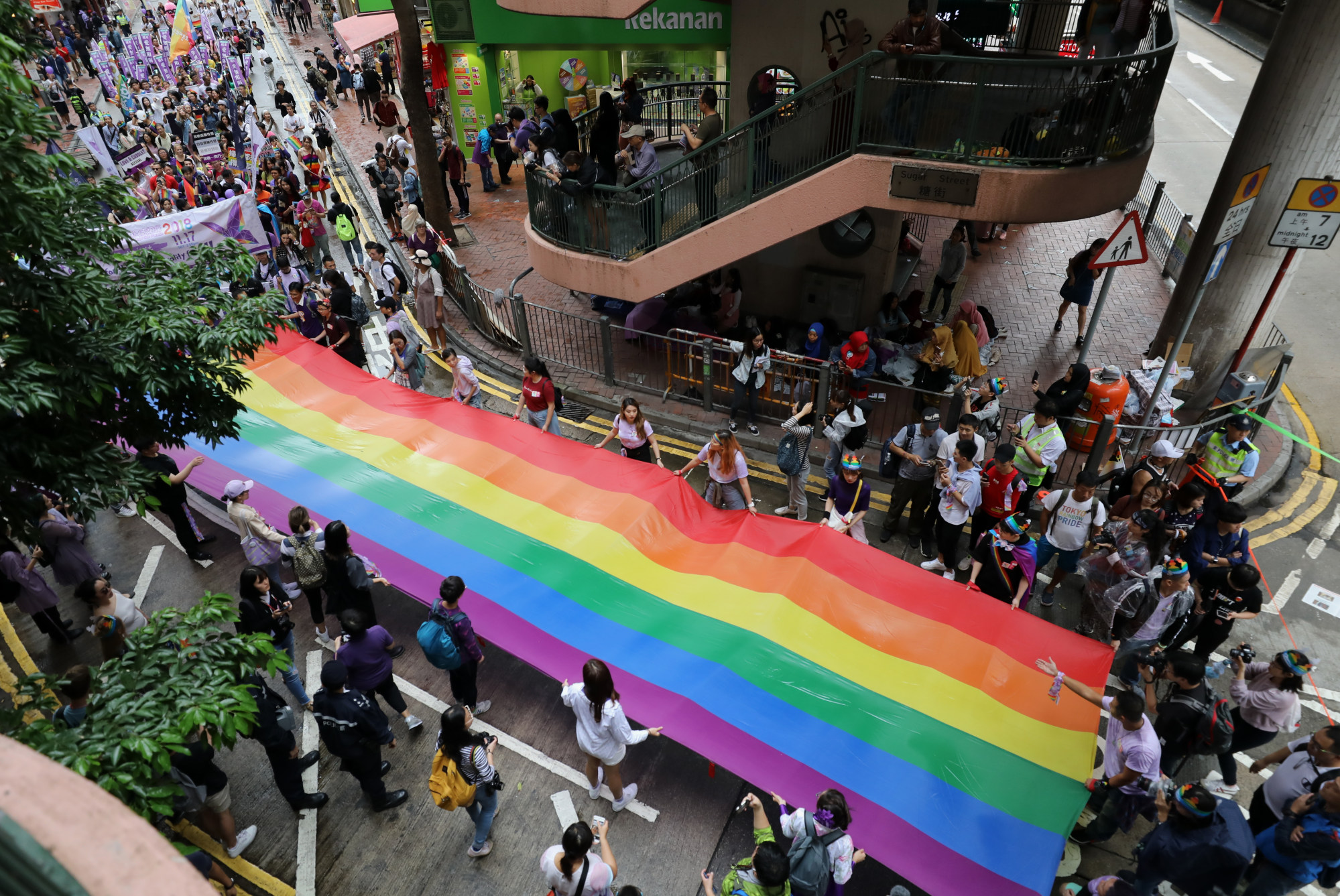 As the anti-pandemic curbs were lifted earlier this year, some marches were held but participants were told to put on numbered lanyards and not to wear masks.
A rally in Tseung Kwan O against a reclamation plan in March was only allowed to have 100 participants. Other planned protests were called off at the last minute.
Cheung conceded that there were certain limitations for their advocacy work given that no marches could be held.
"As we are holding the event indoors, you can see space and everything is very limited, and also the capacity is not enough because we know a lot of people wanted to come," she said.
"We will keep exploring and adapting to the status quo, exploring different forms of Hong Kong Pride.
"As long as we can see there are possibilities … we will never give up on going out to the streets [in future], we will still apply and see what happens."
The event follows the city hosting the 11th
Gay Games
from November 3 to 11, with about 2,400 participants from Hong Kong, mainland China, the rest of Asia, the United States, Europe and Australia competing across 18 events.
But the Games were not without controversy with a group of anti-LGBTQ lawmakers urging authorities to ban the event ahead of the opening.
The group claimed the Games posed a threat to national security and demanded veteran politician Regina Ip Lau Suk-yee, who
backed the event
, resign from her post as convenor of the city's key decision-making Executive Council.
Lee said she was not worried about potential opposition to the Kwun Tong event from some members of the public.
"A lot of discrimination comes from ignorance," she said. "They have their own freedom, I have mine too."