Cooperation
Israel, Gaza and why talk of 'double standards' is trending on the Chinese internet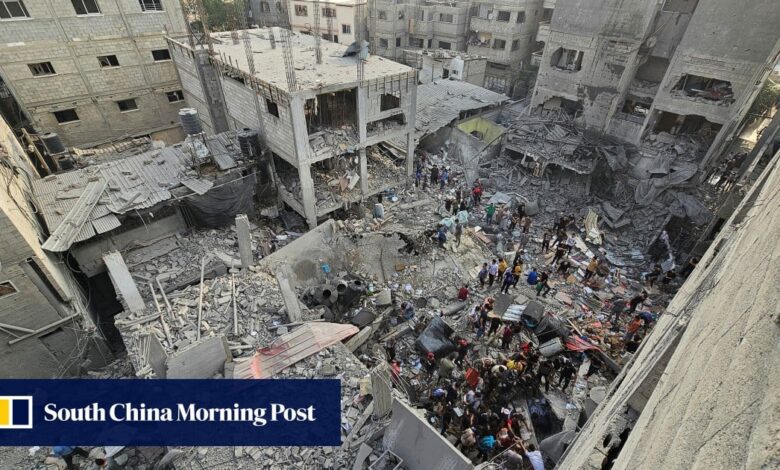 The
Israel-Gaza conflict
has become a latest front in the China-US narrative war, with some Chinese official and influencer online accounts ramping up criticism over "double standards" by Israel and the West.
"The United States and Israel selectively use morality. The world has always been unreasonable,"
Hu Xijin,
former editor-in-chief of nationalist tabloid Global Times, wrote in a post on Weibo on Wednesday.
Hu, who has nearly 25 million followers on the platform, championed Beijing's position, saying China had rejected "morality that was favourable to oneself" to "preside over truthful righteousness" by promoting humanitarianism and rejecting violence from all sides.
Hu's comments added to the online discussion of "double standards" – or shuangbiao in Mandarin – that prevailed after Queen Rania of Jordan last week accused the West of turning a blind eye to the Israeli attacks faced by Palestinians.
The West's response was in contrast to the international outcry to the surprise assault that
Hamas launched against Israel
on October 7, she said.
That view was echoed in a post by a current affairs blogger with 288,000 followers.
In the post, "Xiaosunchu" questioned whether the international community would "sanction Israel" while allowing condemnation of Hamas.
Beijing has refrained from attacking the United States but the social media accounts of some state-owned outlets, including China Daily and China.com.cn, shared popular postings tagged "double standard", accusing American officials of unequal responses to civilian deaths in Palestine and Ukraine.
The discussion comes as Chinese sympathy for Palestinians in Gaza grows and public sentiment against Israel's military actions hardens, with netizens calling the bombing of refugee camps and homes a "massacre".
As of Wednesday, more than 8,000 Palestinians had been killed in Gaza, according to figures from the Hamas-controlled Gaza Health Ministry.
"The bombing of Gaza continues unabated. How many more innocent lives should be lost before the indiscriminate killing stops?" Chinese foreign ministry spokeswoman Hua Chunying said on X, formerly Twitter, on Wednesday.
Israeli strikes have
targeted the largest refugee camp of Jabalia
twice in two days. At least 195 Palestinians were killed in the two Israeli attacks, with 120 still missing under the rubble, according to Gaza's Hamas-run government media office.
The bulk of comments on state media videos posted on video app Douyin of the aftermath showed sympathy for the "deplorable" situation faced by Gazans.
A few accused Hamas of using civilians to shield its leadership.