Cooperation
Hong Kong micro robot developed by university team can kill 99% of dangerous bacteria in medical implants, team says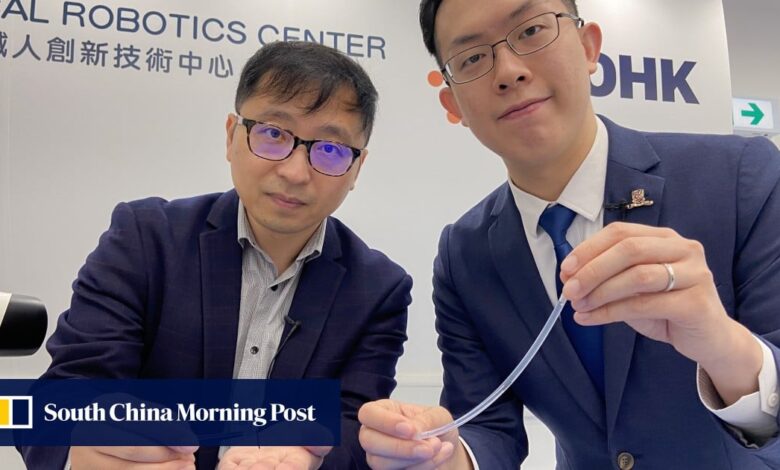 A Hong Kong micro robot powered by magnets that can remove build-ups of dangerous bacteria inside medical devices and minimise the risk of infections linked to implants in patients has been developed by a team of researchers.
The
Chinese University of Hong Kong
team behind the tiny machine, designed to cut the risk of infections by removing biofilm from inside medical devices such as catheters and stents, said on Thursday it could removes the substance, linked to more than 80 per cent of infections in humans, with fewer side-effects compared to other methods.
"Our device could help prevent serious infections and aid patients' recovery and treatment," Tony Chan Kai-fung, a research assistant professor at the university's Chow Yuk Ho Technology Centre for Innovative Medicine, said.
Biofilm, made up of disease-causing bacteria and other microorganisms, is a slimy substance that can grow in medical implants inside patients.
It can also be found in other settings, such as dehumidifier water tanks.
Biofilm growing inside a patient's body is hard to tackle and can be the cause of recurring infections.
"Currently, surgery is performed to clear the biofilm or replace an implant," Chan explained.
"But those implants are usually deep inside a patient's body and surgery to replace implants could bring harm to the patient."
Another treatment is the use of high-dose antibiotics to kill the bacteria, but Chan said that could aid the development of drug-resistant superbugs.
The
World Health Organization
has labelled antimicrobial resistance as a "major threat to human health with significant global economic and security implications".
"We hoped to develop a method in treating biofilm infections without using antibiotics," Chan said.
The wormlike micro robot, made up of magnetic materials, can swirl at speed, navigate through a tiny tube with the help of an external magnetic field power source and break up biofilm slime.
"The wobbling movement of the micro robot acts like a brush in removing the biofilm," Professor Zhang Li from the university's department of mechanical and automation engineering said.
The micromachine also contains hydrogel that can carry hydrogen peroxide, an antiseptic often used for wound care, to kill bacteria from the broken-up biofilm.
Researchers can decide when to release the antiseptic by heating up the micro robot through magnetic force.
The hydrogel will shrink when the temperature hits about 32 degrees Celsius or more and release hydrogen peroxide.
Zhang said that the chemical reaction between hydrogen peroxide and the magnetic effect of the micro robot can create free radicals, which can achieve a better bacteria-killing rate than the use of antiseptic alone.
Laboratory experiments with catheters showed that the device could remove 93 per cent of biofilm in just five minutes and achieve a bacteria kill rate of 99 per cent.
The research team said it would move on to clinical tests after another one to two years of refining the device and tests on animals.
The academics said they were also collaborating with non-medical sectors to apply the micro robots in industry and the environmental sectors, but Chan declined to reveal further details because of non-disclosure agreements.
But he added the technology could be adapted and deployed in oil pipelines or instruments that used water.
"We hope the micro robot could be used in tiny or precision instruments, or tubes that are hard to take out for cleaning," Chan said.