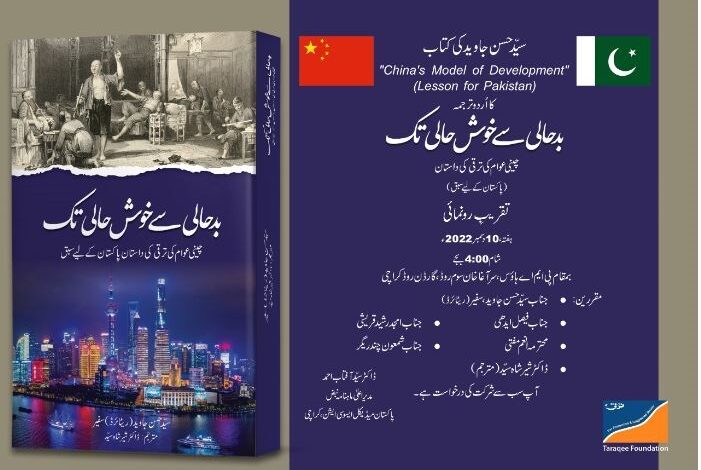 Insightful Book 'China's Model of Development Lessons for Pakistan' , an Inspirational Message Filled with Vision and Strategies for Leadership of Pakistan to Craft a Better  and Brighter Future. 
Understanding the Mantra of #Chinese #Development, and #Modernization.
Karachi: The ceremony for the launching of the Urdu translation of insightful Book 'China's Model of Development Lessons for Pakistan' was held here on Saturday at Pakistan Medical Association House((PMA).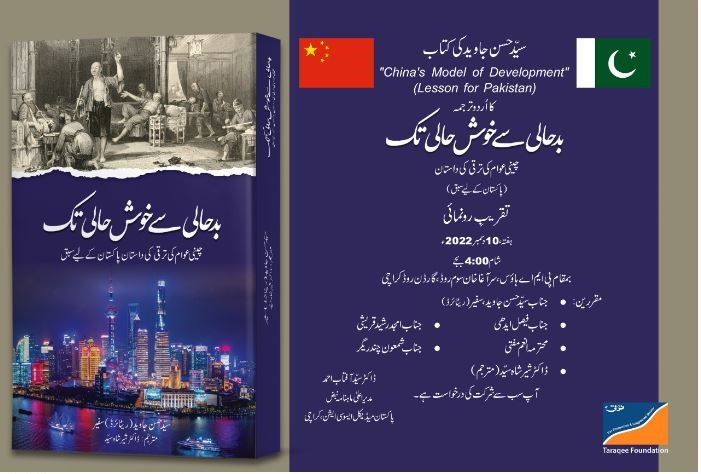 The prominent participants who shared their views and thoughts on the message of this inspirational book included Dr.Sher Shah Syed, who has translated the book in Urdu, Faisal Edhi, Edhi Foundation, Amjad Rasheed Qureshi CEO Tarraqi Foundation, Quetta, Ms.Anum Mufti, Prof. NED University, Former Ambassador of Pakistan to China, Syed Hasan Javed and other prominent experts, and other leading figures associated with China Pakistan historic friendship.
All speakers stressed on the need to learn from the success stories of China's development experience to drive Pakistan out of multiple crisis.
The Author of book, Syed Hasan Javed, who spent ten years in #China and speaks fluent #Chinese, related an eye witness account of the low point from where China began it's journey of reforms in 1979.
He further said under the leadership of Deng Xiaoping, China achieved in forty years, what the Western world took 400 years.
China did it all with Reforms. China learnt from the world, including Pakistan. It is now the turn of Pakistan to learn from China, former ambassador to China emphasized while recalling the dusty streets crowded by Chinese in 1980s.
Ms.Mufti, who teaches 'Development Studies", in her remarks emphasized on the need for investment in human and social capital, for achieving change in Pakistan.
Faisal Edhi spoke on his personal observations in several visits, on the quantum of progress achieved by China.
Mr.Amjad Qureshi who flew from #Quetta with his team, spoke on his inspiration from the book to spread the message, so that it could reach the elite and the rulers of Pakistan, facing turbulent times since 1947.
Syed Sher Shah who translated the book hoped that it's Urdu version will reach the masses of Pakistan to ignite change. He paid great respects to #Chinese leaders Mao Zedong, Deng Xiaoping and President Xi Jinping who made China, strong prosperous and powerful in a short period of time.
The insightful book, #China's Model of Development Lessons for Pakistan, encompasses historic relations, various phases of development policies, programs and projects launched by Deng Xiaoping that changed the destiny of Chinese nation, and placed the country on global stage as regards achieving modernization, and alleviating poverty from China.
By: Dr.Muhammad Arif, Editor, NSN