News
Asia's space race: Korean rivalry, US alliance go into orbit with militarisation of new frontier
The South Korean spy satellite will be carried by a SpaceX Falcon 9 rocket launched from California's Vandenberg Air Force Base on November 30, according to its defence ministry.
Lee Choon-geun, an honorary research fellow at South Korea's Science and Technology Policy Institute, said American spy satellites produced much higher-resolution imagery but were operated under the US' strategic objectives.
He said the US sometimes did not share satellite photos containing highly sensitive information with South Korea.
Pyongyang's state media on Wednesday said North Korea had successfully conducted ground tests of newly developed solid-fuel engines for a new type of IRBM.
Cheong Seong-chang, a senior analyst at think tank Sejong Institute, said the IRBM's range of up to 4,000km could reach US military bases in Okinawa and Guam.
North Korea is also eager to acquire its own spy satellite, but has not attempted new launches after two previous failed attempts earlier this year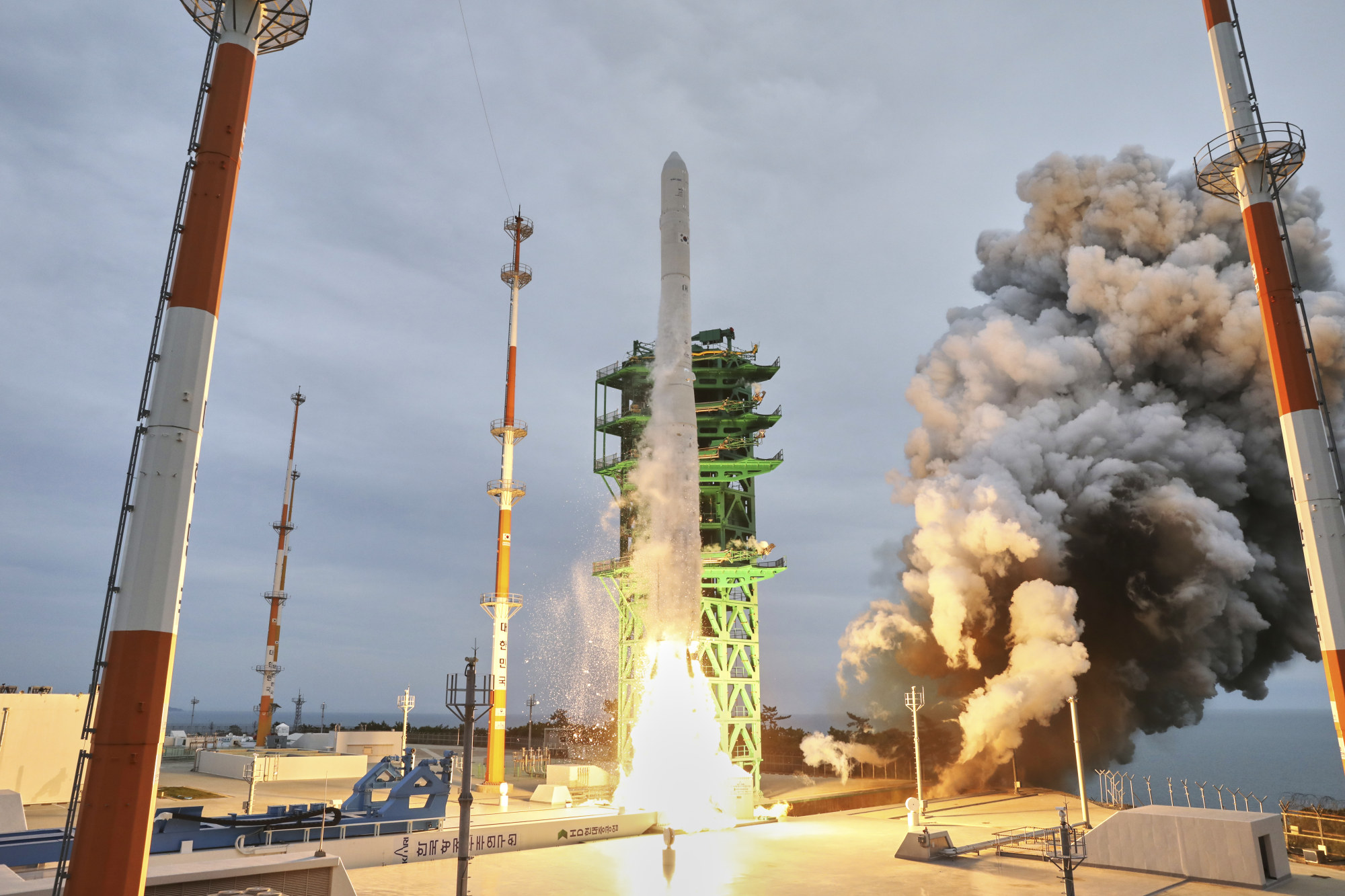 In June last year, South Korea became the seventh country in the world to put a satellite weighing more than a tonne into orbit in a boost to its space ambitions by using a home-grown Nuri rocket.
It also aims to launch four more Nuri rockets over the next five years, land a probe on the moon by 2030 and increase its spy satellite fleet six-fold to 130 in space by 2030.
But Lee Il-woo, an analyst at the Korea Defence Network, raised questions about the competence of South Korea's first military satellite, citing its relatively low spatial resolution which he said was even lower than high-resolution commercial satellites.
"Aside from space data collection from satellites, South Korea also needs great efforts to bolster its capability to filter and analyse such collected data, a sector where the country is far behind other advanced competitors," he said.
With five satellites, the South would be able to watch the North only for 10 hours a day, far short of the length of time needed to monitor Pyongyang's mobile transporter erector launchers, he said.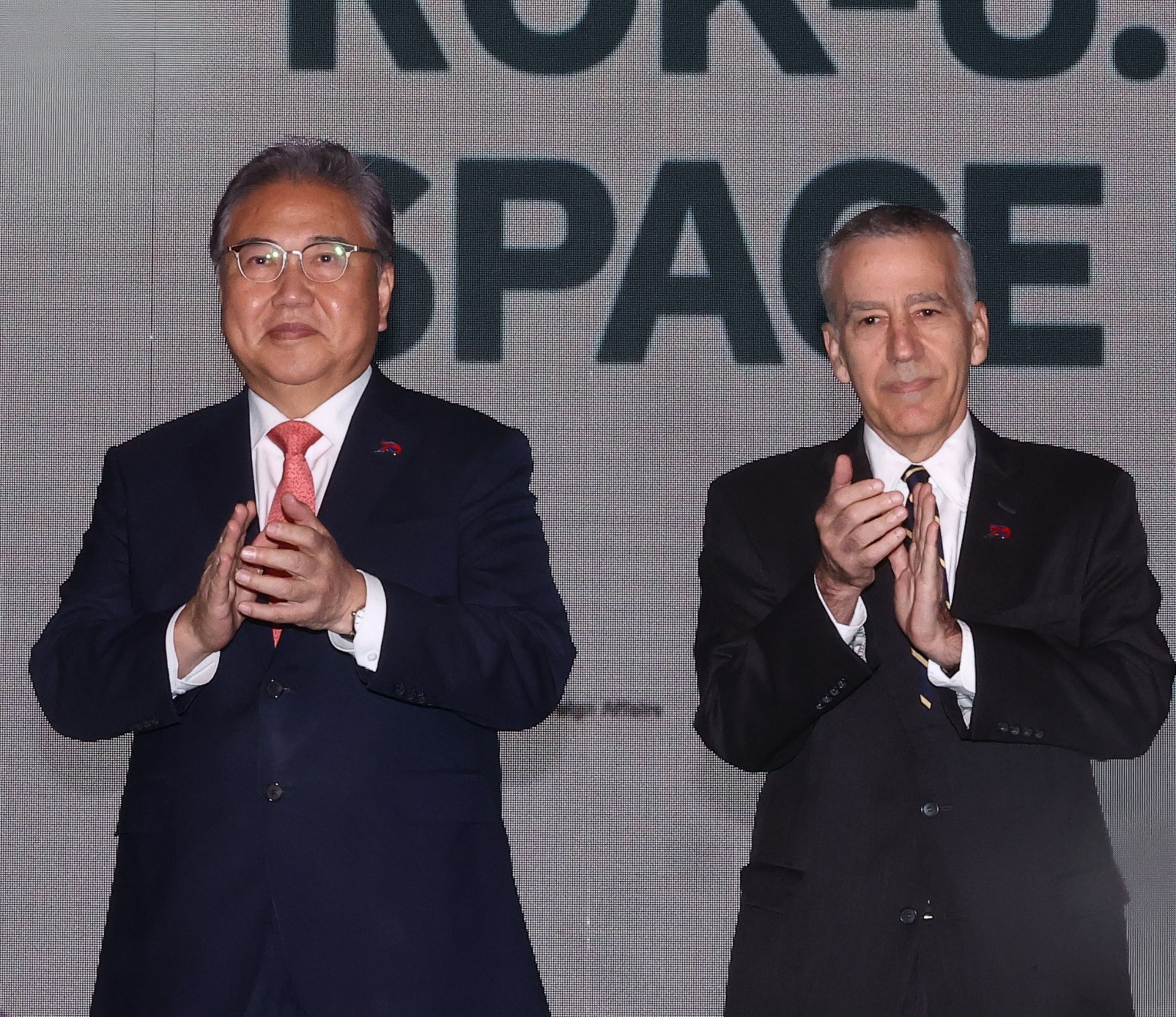 Technical cooperation with the US will hopefully fill the gap, with Seoul's foreign minister saying the countries' "space alliance" would lay the groundwork for international partnership in space, including not only security, but shared economic security and advanced space technology.
"Space is becoming increasingly militarised and weaponised," Park Jin said at a space forum of the two countries in Seoul last week to discuss ways to boost cooperation in space-related policies, diplomacy and security.
According to Park, space is becoming like "a giant geopolitical chessboard" and "accommodating the interests and priorities of various stakeholders to ensure a safe, secure and sustainable outer space is a complex test".
US ambassador to South Korea Philip Goldberg at the same forum also renewed Washington's commitment to strengthen space cooperation with Seoul across various sectors.
"Together, we transform what was once primarily a military relationship into today's truly comprehensive global partnership," Goldberg said. "Simply put, our alliance is stronger than ever."
South Korea in 2021 signed up to the 2020 Artemis Accords as Nasa seeks to unite with its partners to explore the moon and develop a presence there, and to establish vital principles for a safe, peaceful and prosperous future in space.
Seoul launched its first lunar orbiter – the Korea Pathfinder Lunar Orbiter – in cooperation with Nasa last year, carrying Nasa's ShadowCam collecting images of permanently shadowed regions near the moon's poles.
Washington lifted its decades-long restrictions on Seoul's ability to test missiles and rockets – all basically based on US technology – between 2017 and 2021, enabling the South to develop its own space launch vehicles.
Growing domestic space markets
Omkar Nikam, a space and defence expert who spearheads Access Hub, a research and analysis platform, said Asia, more than other continents, has seen "a considerable uptick" in the production of military satellites.
"China, Japan and India, followed by Australia, South Korea, New Zealand and others, are quickly advancing their space technological capabilities in both commercial and military satellite sectors," he wrote in July on the website of Spaceref, a new media company focused on the space sector.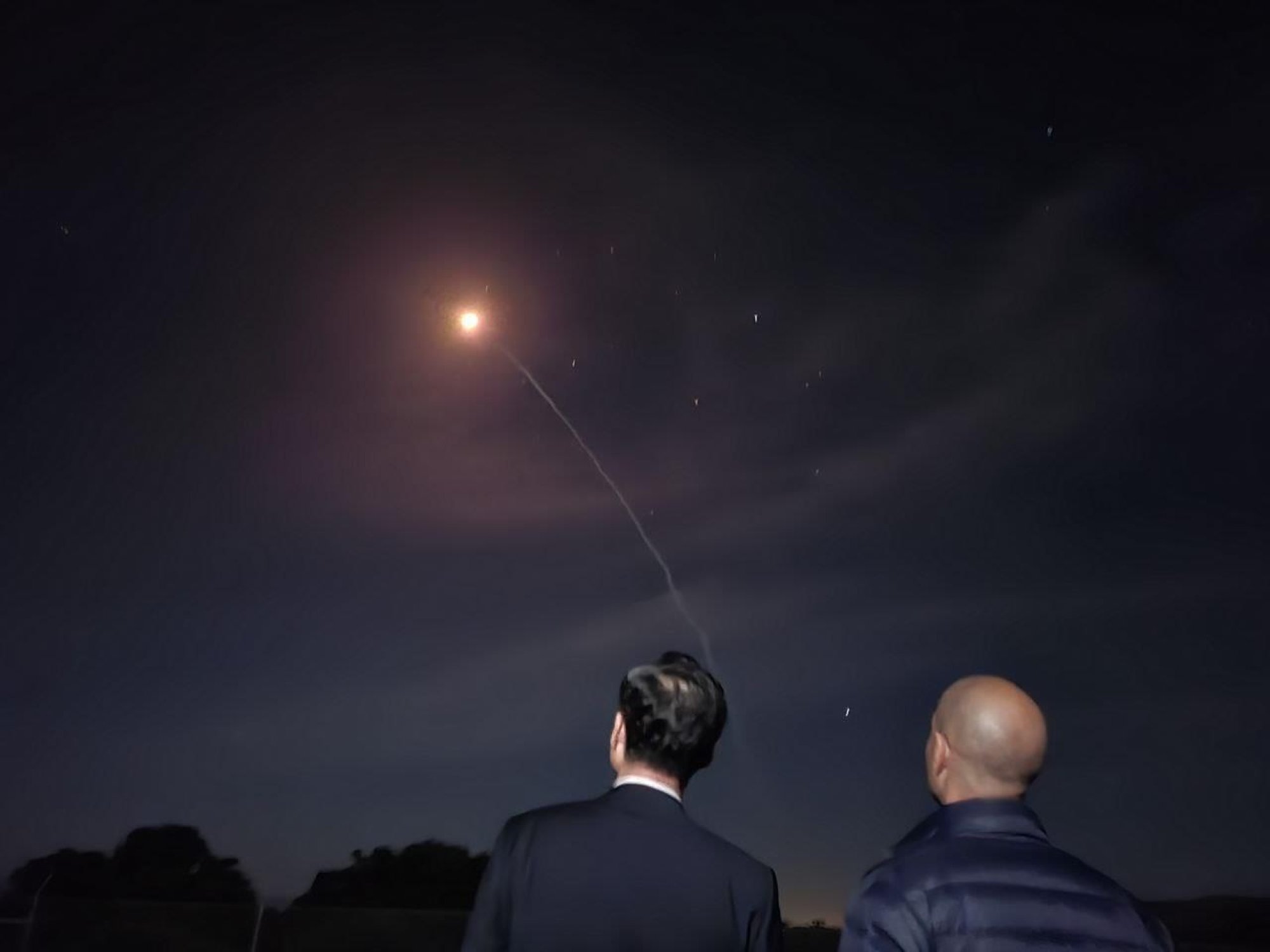 Downstream satellite services had been prominent in the Asia region, but upstream market development related to satellite manufacturing and launches was less evident, he said.
"The development of a strong upstream space industry gives an upper hand to a given country in the international space industry, both by reinforcing a domestic supply chain and helping defence agencies develop their own assets rather than depending on foreign support," he wrote, adding that more countries were expected to develop and strategically invest in their own upstream markets in the coming years.
Nikam told This Week in Asia the presence of companies such as KT Sat and Intellian had helped boost South Korea's commercial footprint in the downstream satellite market. This had given Seoul the "advantage in spotting the demands in several market verticals and accordingly scaling the upstream space market, such as satellite manufacturing".
Even though the US was a key ally, geopolitical tensions and South Korea's location meant it was important for the country to develop sovereign military space assets, create a strong foundation for domestic companies and provide them with consistent support through government and military programmes, Nikram said.
Aerospace industry management professor Kim Kwang-ok at Korea Aerospace University said the US launched the Artemis project by involving its allies, including South Korea, in the space development race amid intensifying military competition with Russia and China.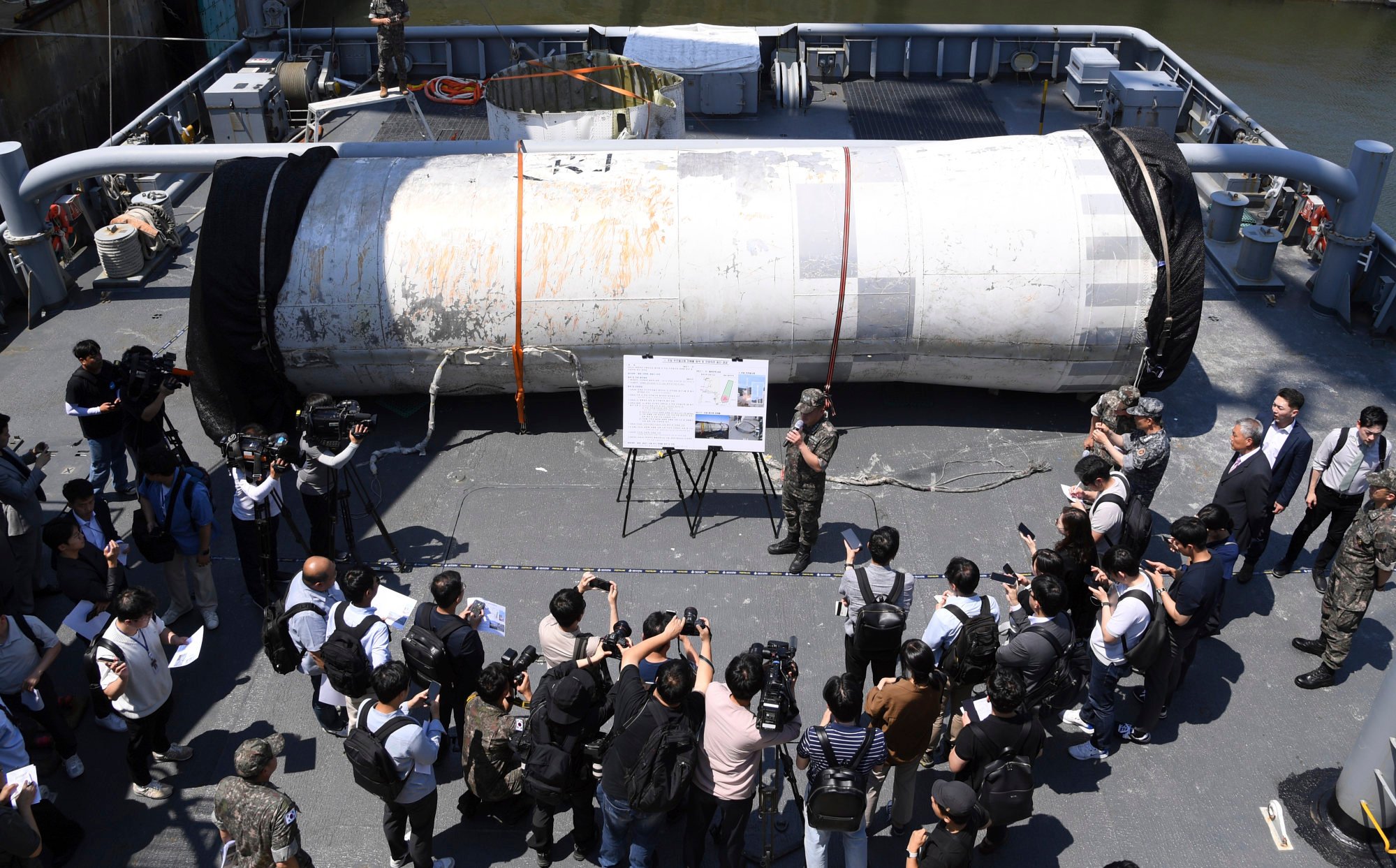 "Commercially, the US has opened a new chapter in developing space with the successful commercial development of SpaceX's reusable launch vehicles … proving that the space industry is economically viable," he told This Week in Asia.
"We believe that Korean companies can capitalise on this opportunity to participate in many of the offshoots of SpaceX's business and develop the country's own space industry."
South Korea's domestic space market worth 3.42 trillion won (US$2.63 billion) in 2020 is less than 1 per cent of the global market and is still in its infancy.
However, it could boost growth by joining forces with the dominant US space industry and capitalise on its strong manufacturing industries and technical personnel with financial backing, Kim added.
Additional reporting by Associated Press