Cooperation
Hong Kong cross-harbour race: 3,000 swimmers compete in annual event which took place without Covid curbs this year
Hong Kong's annual cross-harbour race has returned without Covid-19 restrictions this year, attracting nearly 3,000 swimmers, with competitors lauding the improved water quality.
Professional and leisure swimmers descended on the Wan Chai pier on Sunday morning to compete in the New World Harbour Race 2023, making a splash across Victoria Harbour in the 1km (0.6 miles) journey.
While the event was off to a rainy start, the weather cleared up soon after the races began.
Kerr Xu, a PhD graduate from Jiangsu who took part in the non-competitive leisure group swim, said he was happy with the weather.
"It was raining in the morning and I was a bit worried about that, but thankfully the sun came out as my group started swimming," he said.
Xu, who also took part in the 2018 race, said he was delighted to be back with his friends and had noticed an improvement in the water quality.
"Five years ago, the water had a petrol-like smell and there was some rubbish in it," he said. "I only encountered some seaweed during my swim this year."
The swimmer credited the reopening of the border between Hong Kong and mainland China for making his training process easier, saying that his team could come together easily despite members working in both Shenzhen and Hong Kong.
This year's event returned in full-scale after two years, as it was no longer subject to Covid-19 restrictions on the number of participants, raising its quota to 4,000 swimmers. The event was cancelled in 2019 and 2020.
"The weather was great today and the tidal flow turned out to be better than expected," Ronnie Wong Man-chiu, president of the Hong Kong China Swimming Association said. "Today's event has been very successful."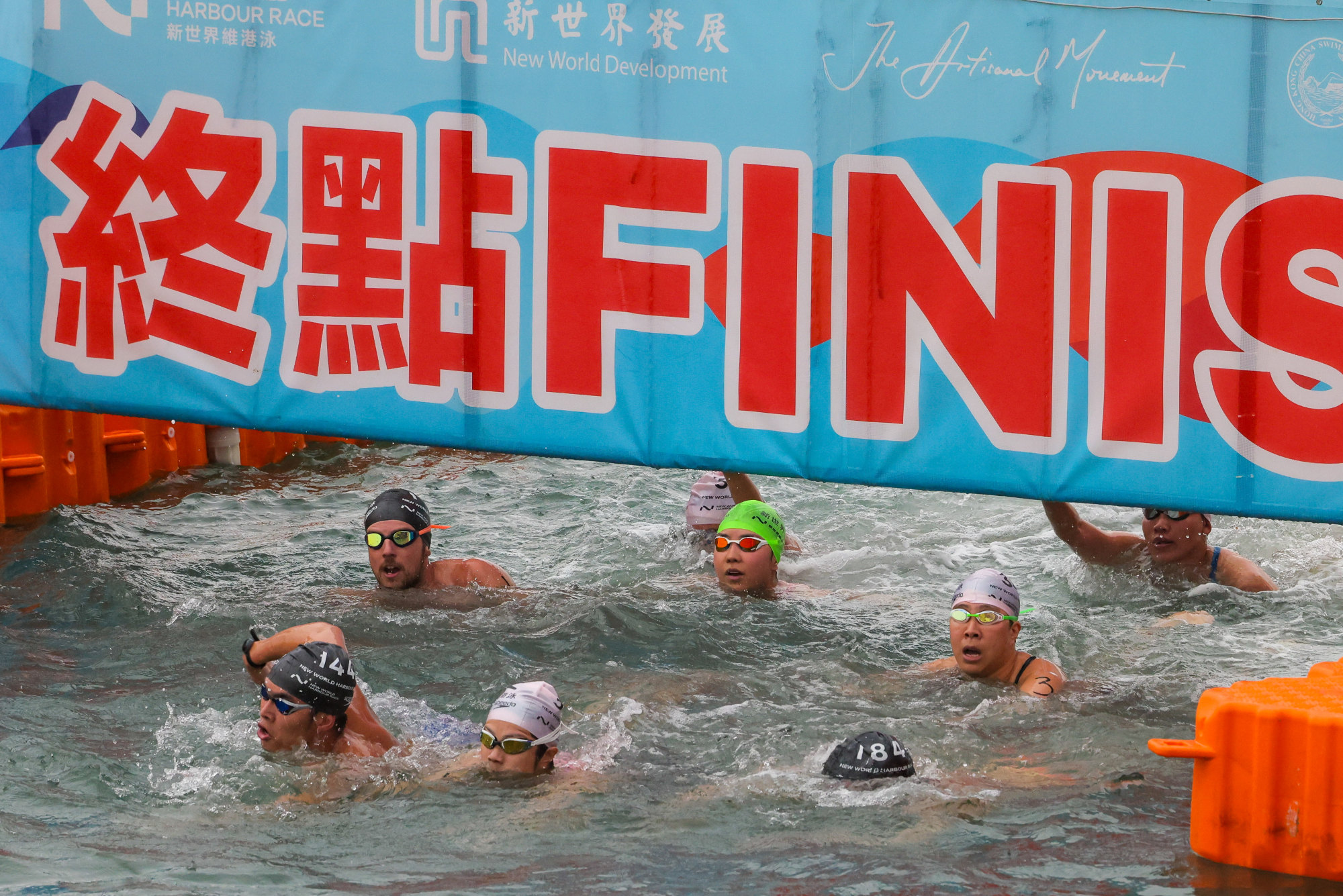 The event saw 2,860 participants, but organisers said about 1,000 applicants did not qualify for the races as they had either missed or failed the swimming test, while 200 people did not show up on Sunday.
"You can say that the race was organised without any Covid restrictions, but from our point of view, we really hope the quota will increase further," Wong said. "Since the safety of our swimmers is paramount, we can only increase the quota gradually."
The race went ahead with 1,500 swimmers last year, as organisers were forced to scrap the 2,000 limit due to pandemic-related restrictions. It took place in separate groups of 500 to comply with government requirements at the time.
Participants had to obtain a vaccine pass and return a negative Covid test within 48 hours of race day, in line with the government's anti-epidemic measures.
With all these requirements gone this year, second-time swimmer Yasmin Larner said she had a great experience and brought her husband Daniel Larner to the competition for the first time.
"It was a carnival atmosphere before we took off, serious business in the water and now it's fun on the other side," Daniel said about his first race. "Everyone was cheering and clapping, taking photos. It was good camaraderie."
Speaking about the water quality, Yasmin said that she had only been hit by a leaf during her swim. Her husband added that he hoped to bring their two-year-old son to the event in 10 years.
Long-time swimmers praised the event and how it was organised.
Rachel Leung, a 50-year-old swimmer who took part in every race since 2011, said she was overjoyed this year as more people could join the event.
"The more the merrier," Leung said. "With more people, we'll feel more pumped up for the swim. The crowd division was also done well."
The cross-harbour race also opened to mainland and international swimmers for the first time this year, with 300 spots reserved for swimmers from the Greater Bay Area.
Wong said the event had attracted participants from six Asian countries, adding he hoped to bring in swimmers from all over the world in future races.