Cooperation
Arab, Muslim leaders slam Israel at Saudi-hosted summit, seek swift end to war
"We are facing a humanitarian catastrophe that proves the failure of the Security Council and the international community to put an end to the flagrant Israeli violations of international laws," he said in an address to the summit.
Palestinian President Mahmoud Abbas said Palestinians are facing a "genocidal war" and called on the US to end Israeli "aggression".
Raisi hailed the Palestinian group Hamas for its war against Israel and urged Islamic countries to impose oil and goods sanctions on Israel.
"There is no other way but to resist Israel, we kiss the hands of Hamas for its resistance against Israel," Raisi said in his address.
He also hit out at the US for providing financial and military support to Israel.
"Both the war machine of the Zionist regime and its fuel belong to the Americans," he said, adding that "undoubtedly, the US government is the commander and the main accomplice of this crime."
The Middle East has been on edge since Hamas fighters rampaged into Israel on October 7, killing 1,200 people.
Since then, Israel has escalated its assault on Gaza, where 11,078 people had been killed as of Friday, 40 per cent of them children, according to Palestinian officials.
Fighting intensified overnight into Saturday near Gaza City's overcrowded hospitals, Palestinian officials said.
A baby died in an incubator at Gaza's largest hospital after it lost power, and a patient in intensive care was killed by an Israeli shell, the Palestinian health ministry said.
"The situation is worse than anyone can imagine. We are besieged inside the Al Shifa Medical Complex, and the occupation has targeted most of the buildings inside," said Ahsraf Al-Qudra, who represents the health ministry in Gaza.
The hospital suspended operations after fuel ran out, Qudra said, adding: "As a result, one newborn baby died inside the incubator, where there are 45 babies."
"We are working hard to keep them alive, but we are afraid we may lose them in the coming hours," he said. "There is no electricity in the hospital completely."
The war has upended traditional Middle East alliances as Riyadh has engaged more closely with Iran, pushed back against US pressure to condemn Hamas and put on hold its plans to normalise ties with Israel.
Raisi's trip to Saudi Arabia is the first by an Iranian head of state in more than a decade. Tehran and Riyadh ended years of hostility under a Chinese-brokered deal in March.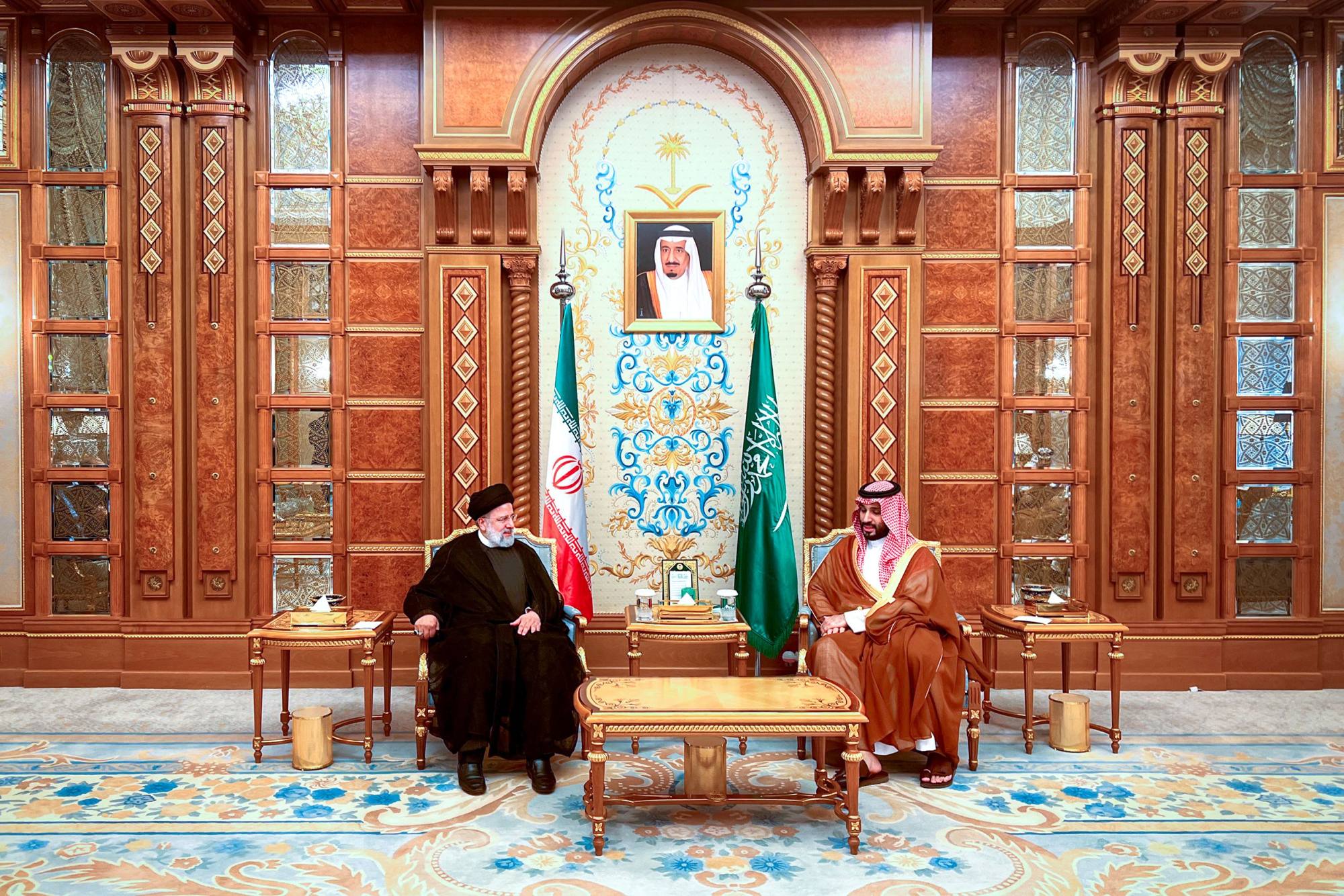 Erdogan called for an international peace conference to find a permanent solution to the conflict between Israel and Palestinians.
"What we need in Gaza is not pauses for a couple of hours, rather we need a permanent ceasefire," Erdogan told the summit.
Qatar's Emir Sheikh Tamim said his country, where several Hamas leaders are based, is seeking to mediate the release of Israeli hostages and hopes a humanitarian truce would be reached soon.
"For how long will the international community treat Israel as if it is above international laws," he said.
The Arab League and the Organisation of Islamic Cooperation (OIC), a 57-member bloc that includes Iran, were originally meant to meet separately.
Arab diplomats said the decision to merge the meetings came after Arab League delegations had failed to reach an agreement on a final statement.
Some countries, including Algeria and Lebanon, proposed responding to the devastation in Gaza by threatening to disrupt oil supplies to Israel and its allies as well as severing the economic and diplomatic ties that some Arab League nations have with Israel, the diplomats said.
However, at least three countries – including the United Arab Emirates and Bahrain, which normalised ties with Israel in 2020 – rejected the proposal, according to the diplomats who spoke on condition on anonymity.
Hamas had called on the summit to take "a historic and decisive decision and move to stop the Zionist aggression immediately".
"We call on Arab and Muslim leaders … to put pressure on the American administration, which bears direct responsibility in the genocidal war that our people are facing in the Gaza Strip," a statement from the Palestinian militant group said.
Additional reporting by Agence France-Presse