Cooperation
China's defence minister Li Shangfu does not attend meeting, continuing public absence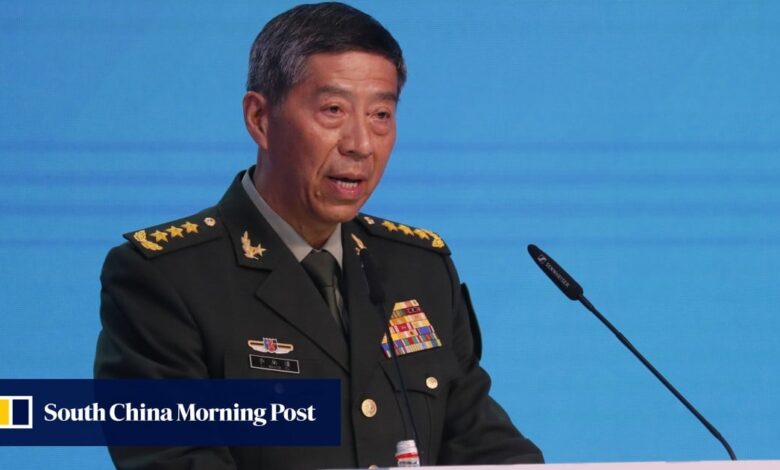 The last public appearance of Li, 65, was at the China-Africa Peace and Security Forum in Beijing on August 29, when he delivered a keynote speech.
Li's disappearance follows the unexplained weeks of absence this summer by Foreign Minister Qin Gang, including missing out an international summit due to "health reasons". Qin was replaced as foreign minister in July by his predecessor, Wang Yi.
The Friday event was a meeting by the People's Liberation Army leadership concerning political education. Three of the seven-member Central Military Commission (CMC) – China's highest military decision-making body headed by President Xi Jinping – were present: He Weidong, the commission's vice-chairman; Admiral Miao Hua, who supervises political affairs; and armed rocket force General Zhang Shengmin, who is in charge of disciplinary issues.
Also not in attendance were General Liu Zhenli, the chief of staff of the joint staff department; and General Zhang Youxia, Xi's trusted ally and the first-ranked CMC vice chair.
He, who chaired the meeting, asked the PLA commanders to strengthen their political conviction and step up combat readiness, according to Xinhua.
But it was Li's absence that caught China observers' attention – after the US ambassador to Japan, Rahm Emanuel, publicly stated that Li had not shown up at a meeting with Singapore's Navy Commander this week. The Singaporean authorities have not responded to a request to confirm the absence.
US intelligence officials have claimed that Li is in some sort of political trouble.
Asked for an assessment during a White House briefing on Friday, US National Security Adviser Jake Sullivan dodged the question, saying only: "I don't have anything for you today."
Reports of Li and his personal information on the website of the Ministry of National Defence have not been removed and he is still listed among the ministry's top leadership.
There are no official reports or explanations about his whereabouts.
In August, the PLA Rocket Force also saw a sudden major shake-up, in which its commander, Li Yuchao, and political commissar, Xu Zhongbo, were both replaced with no reason offered.
On Friday, the PLA Daily also reported that the rocket force was carrying out fact-finding missions to improve its performance. While the report made no mention of any disciplinary or corruption issues, its publication raised speculation.
Li became a member of the CMC at the 20th Communist Party Congress in November 2022 and was appointed to the ministerial post with the additional vice-premier-level title of State Councillor in March.
Before his promotion, Li was chief of the CMC's equipment development department, for which he was put on the US sanctions list in 2018 over weapons procured from Russia.