Cooperation
Climate change: launch of biofuel blended shipping fuel by Hong Kong firm is just the start of the search for the ultimate green solution
Chimbusco Pan Nation Petro-Chemical, Hong Kong's largest shipping fuel supplier, has achieved a first for China by refuelling an
ocean-going vessel
using a climate-friendly marine biofuel mix, according to a senior executive.
The biofuel blend, which has a far lower carbon footprint than conventional bunker fuel, was used to power a vessel operated by Japanese shipping firm Kawasaki Kisen Kaisha last month, said director Calvin Chung Dik-hong.
The company needs to continue its search for other affordable long-term
alternatives
to meet the requirements of a
decarbonisation
drive by the International Maritime Organisation (IMO), he said.
"There are many options, such as methanol, liquefied natural gas (LNG) and ammonia, besides battery-powered and solar or wind energy-assisted vessels," he told the Post. "Each has its advantages and disadvantages and no particular one is the clear winner. The industry is at an exploratory stage."
Ammonia and methanol, traditionally made from fossil fuel, can now be produced as so-called green fuels if they are derived from hydrogen made using renewable energy.
In July the IMO, a United Nations agency responsible for regulating shipping, upgraded the global industry's climate ambitions, committing its 175 member nations to net zero greenhouse gas emissions by 2050.
It also aims to slash emissions per unit of transport work conducted by at least 40 per cent by 2030 from 2008 levels, and will strive to cut absolute emissions by 30 per cent.
Shipping accounts for around 3 per cent of global carbon emissions, according to the IMO.
It is a blend of 24 per cent biodiesel produced by Hong Kong-based ASB Biodiesel from waste cooking oil, with 76 per cent fuel oil, and requires no engine modification.
It has a carbon footprint 84 per cent lower than that of conventional bunker fuel, which means the blended fuel can reduce the emissions of a vessel by around 20 per cent, Chung said.
In Singapore, the same biofuel mix now accounts for 1 per cent of total marine fuel consumption, two years after it was launched, he said.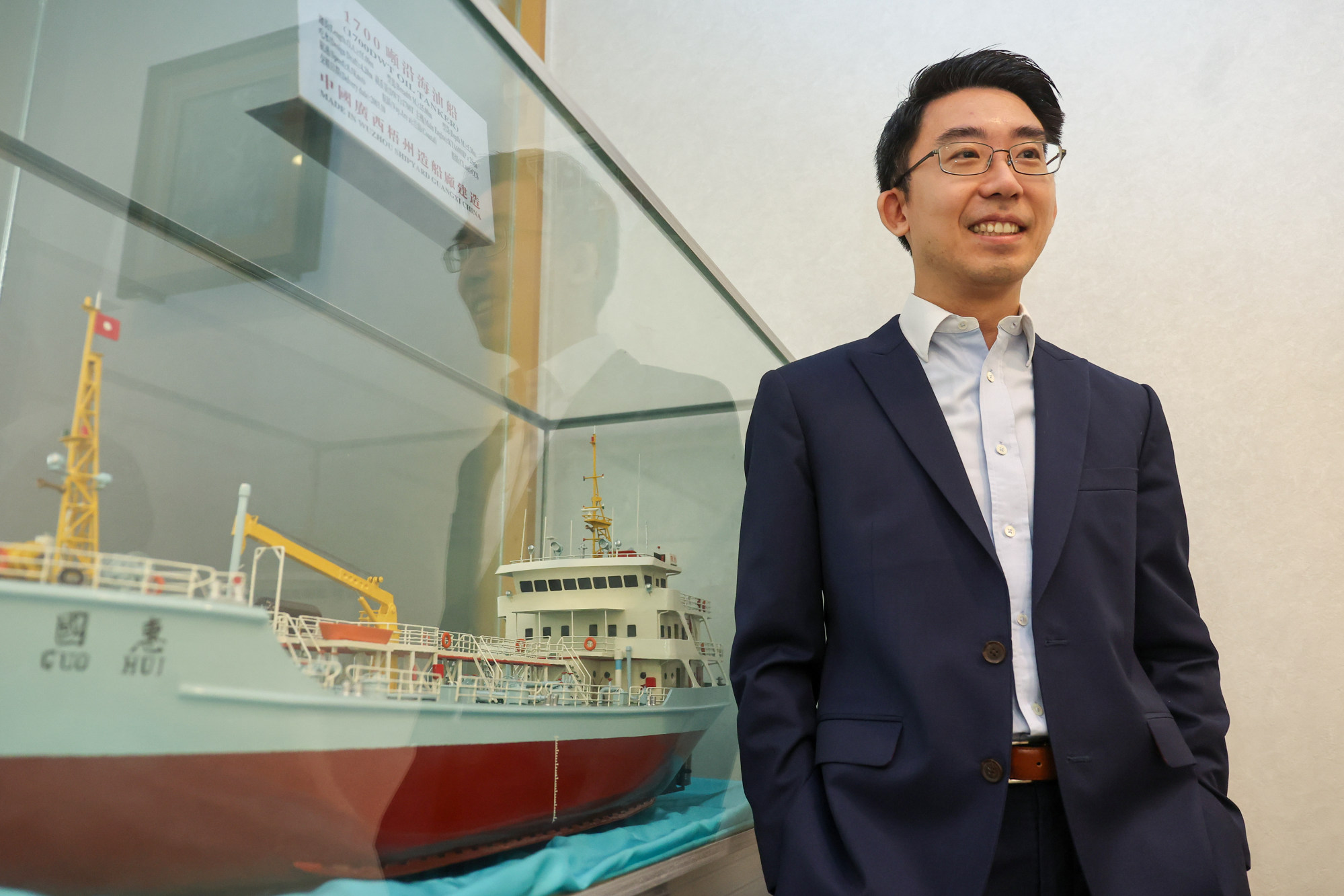 Demand will be boosted by European Union emissions regulations set to kick in early next year, Chung added. All ships of 5,000 gross tonnage and above entering EU ports, regardless of the flag they fly, will be required to abide by the region's mandatory greenhouse gas emissions cap-and-trade regime.
Among orders for new vessel last year, some 51 per cent by tonnage were LNG dual-fuelled, 7 per cent were methanol-fuelled and 11 per cent can operate on ammonia, according to Clarksons Research.
Ships run on LNG emit a quarter less carbon dioxide than conventional marine fuel for the same amount of propulsion power, according to the International Council on Clean Transportation, a think tank.
Late in 2022, OOCL, a unit of China's Cosco Group, ordered the construction of seven container vessels that can be powered by methanol. The Danish shipping giant Maersk ordered six container vessels with dual-fuel engines that can operate on methanol last summer.
Chimbusco Pan Nation was formed in 2005 as a joint venture between Hong Kong's Pan Nation Petro-Chemical and China Marine Bunker (PetroChina) – also known as Chimbusco – as an international fuel marketer. It currently has a fleet of eight bunker barges.
Trading some 9 million tonnes of fuel oil worth HK$45 billion (US$5.7 billion) annually, of which a third is sold to ships in Hong Kong, it is the city's largest bunker fuel supplier, according to Chung.
Chimbusco is a joint venture between PetroChina, the nation's largest oil and gas producer, and Cosco, one of the world's largest shipping groups.
The biodiesel it uses to blend with conventional fuel is made in Hong Kong by
ABS Biodiesel
, which produces it from waste cooking oil using methanol as a catalyst.
While its emissions reduction benefit is similar to that of
hydrotreated vegetable oil
(HVO) – biodiesel produced from used oil with hydrogen as the catalyst – HVO is 30 to 40 per cent more expensive, said Chimbusco Pan Nation's senior trader, Wan Ka-kit.
HVO can be used in pure form in engines, whereas the biodiesel produced using methanol can only form up to 30 per cent of a fuel mix.
"Affordability is the most important consideration," Wan said. "If the buyers are not willing to fork out more, especially during an industry downcycle, it is difficult for us to push HVO to them."