Cooperation
'Dad told me to turn myself in': China girl, 10, 'confesses' to police after being caught stealing US$110 from parents to fund snack racket
A 10-year-old girl in China has earned widespread praise on mainland social media after she turned herself in to the local police after being caught stealing 800 yuan (US$110) from her parents.
On August 22, accompanied by her father, the girl, surnamed Zhang, went to a police station in Ningbo, Zhejiang province, southeastern China where she made a tearful admission of guilt.
"My dad told me to turn myself in," she told officers.
The little girl was then asked by two police officers, Jiang Huoming and Dong Zhuting: "What mistake did you make? Why did you come to confess?"
The girl explained that her family owned a convenience store from where she often bought snacks. However, her father had become concerned about her health and imposed restrictions on how much she could eat.
The youngster then hatched a cunning plan.
She would pilfer money from her parents and then get her classmates to buy the snacks for her. In total, she stole 800 yuan.
After he found out about the ruse, the girl's father took her to the police station and privately told officers: "Actually, I just want her to learn a lesson."
"If she takes money from home now, she will steal from others when she grows up. I don't want my daughter to go down the path of crime," he told the police.
To get the father's message across, officer Dong said to the girl: "If you are determined to correct your mistakes, let's make a pledge and write a commitment letter. We can correct them step by step."
The repentant young girl nodded, sat down and began to write, finally handing over her letter 10 minutes later.
It read: "I will no longer take my mum and dad's money, and I will not deceive anyone. I will study diligently and stop playing during class. I will complete my homework on time every day."
At the end of the letter, Zhang signed her name alongside that of a police officer who did so as a witness.
The young girl also apologised to her father, and police officer Dong made her a promise: "We pinky swear that from today, we will work together to gradually correct our mistakes and uphold our promises. You will always be an honest kid with integrity."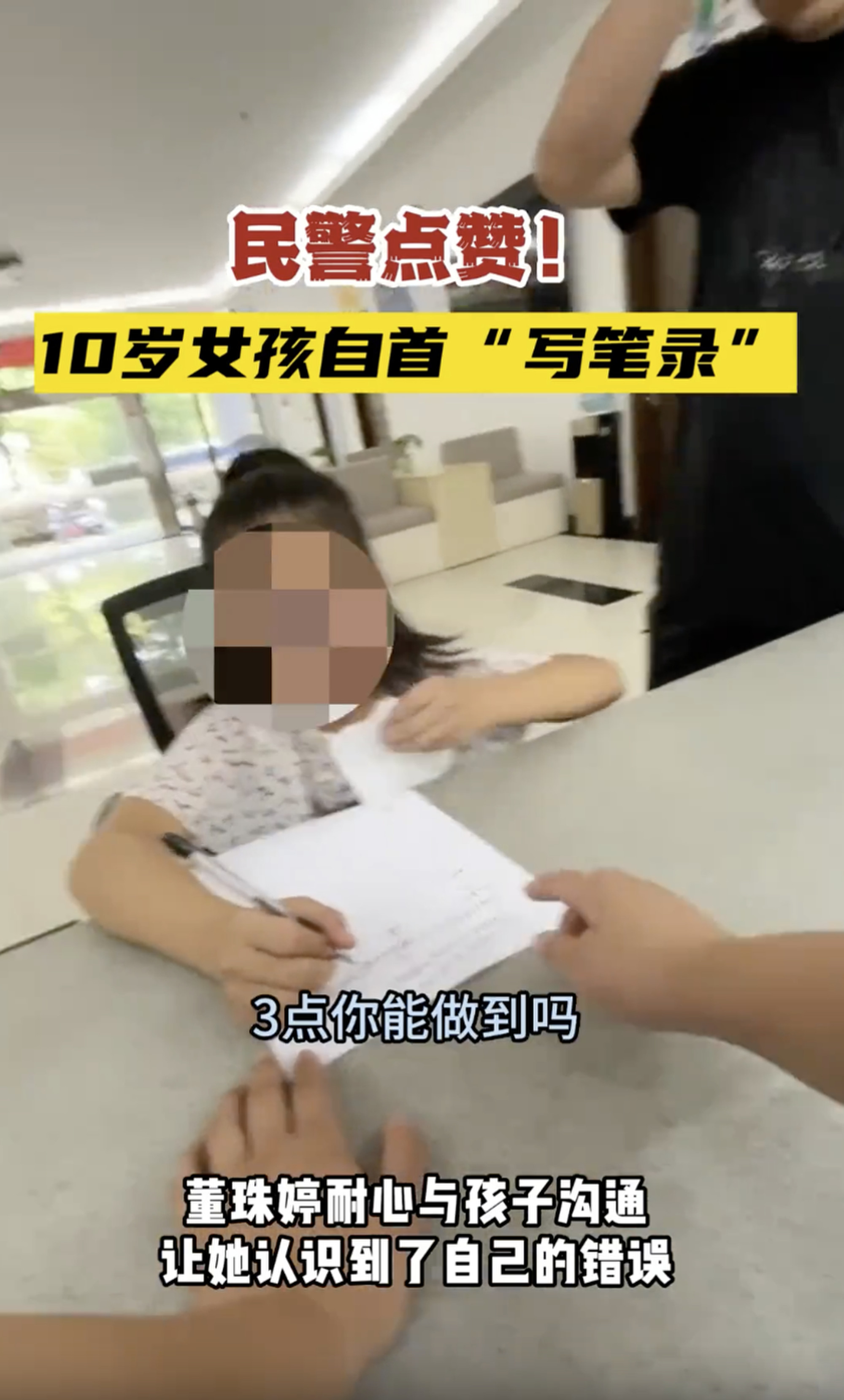 The heartwarming story, reported by Ningbo Evening News, has struck a deep chord with people on mainland social media.
One online observer said: "The policemen are very compassionate!"
While another added: "To acknowledge and correct one's mistakes is what truly makes a good child."
"When children make mistakes, they require parents who gently and patiently guide them. Such parents are the guiding lights on a child's path to growth," agreed a third.